CBD is being sold everywhere these days from drugstores to health food markets to retail brands like Urban Outfitters. So, what is CBD? Is it safe? Will I pass a drug test if I use it? In today's blog, we thought we would address these common questions and provide you with answers about CBD so that you can make the decision if CBD is right for you (and check out our blog by this title, too).
What is CBD?
CBD stands for cannabidiol. It is the second most prevalent of the ingredients of cannabis. While CBD is an essential component, it is derived directly from the hemp plant and is non-psychoactive. Research has shown that CBD has numerous health and wellness benefits.
Will I pass a drug test/will CBD get me fired?
The hemp extract that we use meets all Federal guidelines including the 2018 Agriculture Improvements Act and it is Federally legal.  As part of this qualification, our products are certified to contain less than 0.3% THC.  This means that it will not get you high or have any cerebral effects.  Since each employer may have different policies, you should check with your employer for confirmation that they are allowing their employees to use a federally legal natural extract from Hemp containing only CBD and no THC.
How is CBD different from marijuana?
Marijuana and CBD are derived from the cannabis Sativa plant. Marijuana has been cultivated to contain high levels of THC, where hemp is high in CBD, low in THC. CBD is a non-psychoactive and will not get you high.
Why are topical lotions the best way to use CBD versus other options?
Topical lotions are the best way to use CBD versus other delivery methods due to the following: 1.  Smoking and vaping deliver imprecise doses as well as present risks to the lungs.  2.  Edibles slowly deliver imprecise doses after the CBD is possibly compromised by stomach acids and the liver.  But, while topicals are the best and safest way to use CBD, not all topicals are the same.  HerbTech topical lotions provide precise dosing and phase change emulsion formulation  to penetrate the skin.
 What are the benefits of CBD?
CBD, short for cannabidiol, is a critical phyto-cannabinoid and it is found in hemp.  Humans produce CBD n in small quantities and it has receptors throughout the body.  There is extensive published research, (including on the internet) showing that CBD has potential benefits..  These include results from some FDA sanctioned clinical trials. However, Herb Tech Pharma, makes no health claims concerning its products, nor has the FDA reviewed any of our statements.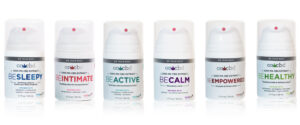 At On CBD, we have formulated our hemp CBD lotions with advanced topical science. Our topical lotions are  infused with botanical extracts making for a custom experience.
We often get questions about our line of products, so we have put together some facts about On CBD that will help you not only learn more about us, but explain why On CBD is superior to other CBD topicals on the market.
What can I expect when using the products?
On CBD is a line of topicals that helps transform your daily life. Each bottle of On CBD contains 1,000 mg of organic industrial hemp CBD extract which contains 80-95% pure CBD, giving you a consistent experience every time.
 How much CBD is in your products?
With our controlled dosing, each pump dispenses 1 gram of product containing 20mg of CBD guaranteeing a consistent dose each time.  
 What does On CBD feel like?  I've tried other products that are sticky and messy.
On CBD is easy to apply without greasy residue or obnoxious odors, we use advanced formulation science to allow our ON CBD products to penetrate the skin. Read more about this technology here.
 Are your products all-natural?
On CBD is formulated with naturally-occurring ingredients, herbs, and botanicals.  In fact, we chose our name Herb Tech because we are focused on providing the best herbal/botanical extract experience for our customers.  We do however use the minimal amount of safe preservatives needed to protect against harmful microbes that can occur when a product is exposed to the air.
 Are your products tested?
Yes! Our third-party certification process guarantees we are Federal regulation-compliant and each bottle indicates the production batch number for you to reference the batch certification on our website. Hemp is Certified under the Food Safety Branch of the Kentucky Cabinet for Health. We use 100% Kentucky grown hemp, no contracted farmers. We do not source on the open market.
Where do you get your CBD?
 At On CBD, our CBD is sourced in Kentucky from one of the oldest USDA approved, vertically-integrated hemp growers in the U.S. Their production is overseen by the Kentucky Department of Agriculture.
 What are the dosage recommendations?
 Herb Tech Pharma products can be applied as needed. For best results, we recommend applying at least 2x per day, once in the morning and once in the evening.
 Where can I buy it?
On CBD is available to buy online.
Hopefully, we have answered your questions but if you still have others, please email us at info@herbtechpharma.com. You can learn more about our line of topicals here.