Cannabidiol (CBD) seems to be available almost everywhere these days. It is sold online, in drugstores, supermarkets and even in many gas stations. It is also in a variety of different forms – from ingestible products to dietary supplements to cosmetics and even animal health products. But just because it is everywhere, does that really mean it is safe?
To understand if it is safe, let's first explore 'What is CBD'?  CBD is derived from the cannabis Sativa plant like marijuana.  Whereas marijuana is cultivated to contain high levels of THC, CBD hemp is low in THC (<0.3%) and non-psychoactive.  CBD hemp was legalized by the 2018 Farm Bill.  The bill made industrial hemp legal in all 50 states and removes hemp from the Controlled Substances Act allowing for commercial cultivation.
CBD products that meet the Federal guidelines are legal and do not contain enough THC to get high.  Many people want to understand if they will be able to pass a drug test and the answer is that it depends on the employer and what they are screening for.  Generally, if an employer is screening for illegal substances then CBD hemp would not fall into that category and a drug test would come back clear.
To be safe, it is important to do your research and only purchase CBD products from a trusted source.  A few of the key considerations in your CBD purchase includes:
Source of CBD hemp used in production
Quality control of products to ensure compliance with guidelines
Application of product – ingestible vs vaping vs topical
Company history and track record
We want to help you understand how On CBD products rank based on the considerations above.  On CBD products are lifestyle health and wellness products that follow all marketing and label requirements for a general consumer product.
Our hemp is sourced from Kentucky at one of the oldest USDA approved hemp growers in the US.
Our products are manufactured at the highest pharmaceutical standards with certified production compliance at every stage of manufacture.  Rigorous testing is done and verified through independent, third-party labs using HPLC analysis. Our CBD conforms to the requirements of both the Farm Act of 2014 and 2018 (removing hemp – defined as cannabis and cannabis derivatives with very low concentrations – no more than 0.3% on a dry weight basis of THC – from the definition of marijuana in the Controlled Substances Act).  We provide access to the Certificates of Analysis validating our product. Click to view our certificate of analysis for CBD extracts in our products: https://herbtechpharma.com/cbd-certification/
Our full line of On CBD products is topicals. Topicals that do not need any additional regulations as opposed to ingestible and vaping products that are under review.
Our parent company, Herb Tech, is a spin-off from a pharmaceutical company. That means that we have extensive research and innovation in the space.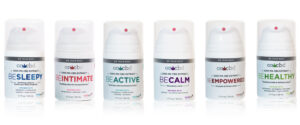 On CBD is for consumers looking for a potent CBD and botanical experience. We are not a menthol or a simple moisturizer with a little bit of CBD in it. We offer several different topicals to address different needs. Whether you want to feel your best when you hit the gym, enhance your intimate moments, or just maximize relaxation in your quiet time, our CBD lotions are formulated to deliver a better experience in your everyday life. Check them out here: https://herbtechpharma.com/cbd-lotions/