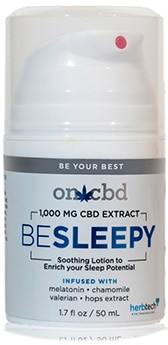 On CBD Product Line
Be Sleepy

Topical CBD Lotion
ON CBD: Be Sleepy is a soothing lotion to enrich your sleep potential. Infused with Lavender Essential Oil, Valerian Root, Chamomile Flower, Rhodiola Root, Wild Lettuce, Blue Vervain (Verbena Hastata), Hops, Sea Kelp, Marshmallow, and Melatonin.
1,000 mgs Industrial Hemp CBD Extract
Dose Controlled 20 mgs Of CBD Extract Per Pump
Guaranteed to Contain Between 80%-95% Pure CBD
Formulated With Proprietary Phase Change Delivery Technology
Product Information: Be Sleepy
Ingredients List
1,000 mgs of organic industrial hemp CBD Extract which has 80% – 95% of pure CBD
Other Ingredients
Water, Isopropanol, Urea, Dimethyl Isosorbide, Dimethyl Sulfoxide, Oleic Acid, Olive Oil, Lavender Essential Oil, Valerian Root Extract, Chamomile Flower Extract, Rhodiola Root Extract, Wild Lettuce Extract, Blue Vervain (Verbena Hastata) Extract, Hops Extract, Sea Kelp Extract, Marshmallow Extract, Melatonin, Glyceryl Monostearate, PEG-100 Stearate, Cetyl Alcohol, Carbomer, PEG-40 Hydrogenated Castor Oil, Hydrogenate Phosphatidyl Choline, Allantoin, Vanillyl Butyl Ether, Triethanolamine, Methylisothiazolinone, Phenethyl Alcohol, PPG-2 Methyl Ether, Potassium Sorbate, Caprylyl Glycol, Hexylene Glycol, Citric Acid.
Directions
For external use only on intact skin. Apply 1 to 2 pumps on non-sensitive skin only, such as wrist, neck etc. Do not apply to mucus membranes. As part of the phase change delivery technology you may feel a warming sensation.
Warnings
Keep out of reach of children. CBD is certified from Hemp with less than 0.3% THC. Herb Tech maintains validation records for each batch. This product is not intended to treat, cure or prevent diseases. As part of the phase change topical technology and the cumulative effect of the robust botanicals, you may feel a warming or even hot sensation after application. This demonstrates that the product is working, the sensation should subside after an hour or so. Stop use if visible skin irritation occurs. This product has not been analyzed or evaluated by the FDA or any state agency.